About
I operate as a sovereign mentor and advisor, catering to enterprises spanning diverse dimensions and sectors, orchestrating multifaceted transformations.
Given my experience and credentials, I establish an unparalleled standard of excellence, surpassing fellow enterprise and team coaches, trainers, and organizational design consultants who extend their services to clientele. While demanding elevated benchmarks from others, I relentlessly uphold an elevated standard for myself.
I possess the utmost industry credentials, bestowed by esteemed and globally recognized institutions, bolstered by an illustrious track record of personal achievements spanning numerous years.
I undertake consulting and coaching endeavors alongside my compact assemblage of skilled coaches and consultants. Don't hesitate to connect with me for any specific objectives you're pursuing.
---
Education
MBA in Operations Management from Sikkim Manipal University, Aug 2012

Bachelor of Electronics and Communication Engineering passed out in April 2001 from University of Madras

Post Graduate Certificate in Business Management (PGCBM) from XLRI, Jamshedpur.

Executive program in International Business (EPIB) from IIM Calcutta.
Publications
Do Organizations Fully Leverage Agile Coaches? Scrum Alliance June 2014
– Scrum Alliance June 11, 2014
Beware! Regional Culture Chaos May Derail Organizational Agility Scrum Alliance March 2015
– Scrum Alliance March 18, 2015
Licenses & Certifications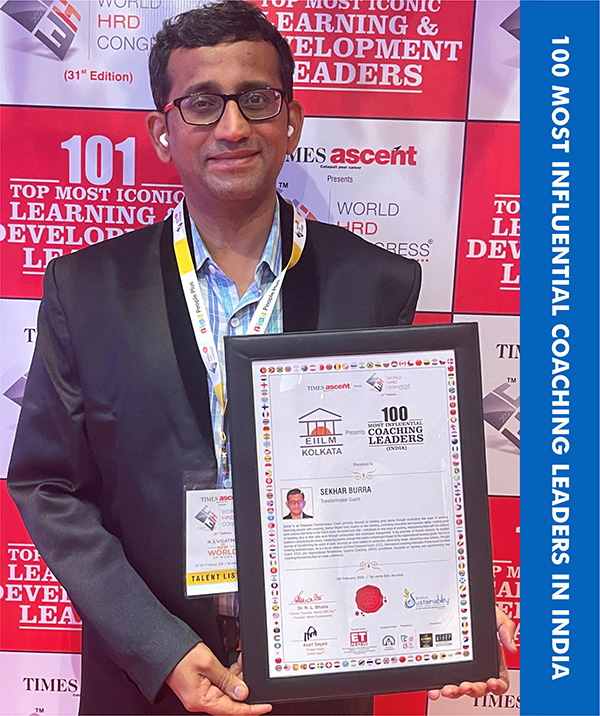 Distinguished Participant
BSG
May 2012
For achieving top 5% (9th rank world wide) in the Best Business Strategy invitational
The Best Team Award
TCS
Aug 2010
Bravo Award
Chrysler
Apr 2010
Contact
Email:
info@sekharburra.com